Blinds for Bifold Doors
When ordering blinds for Bifold doors, be sure to check when the doors are folded back open there is a sufficient clearance/gap between the doors.
The gap between the 2 doors must be double +5-10mm the widest point/depth/projection of the blind, otherwise the doors will not fold back closed.
e.g for perfect-fit roller blinds 2 x 60mm + 5mm = 125mm gap needed.
Blind Depths at their widest point (per blind)
INTU 'Micro' Cellular 20mm
Perfect-fit Roller Blinds - from the frame 60mm
Perfect-fit Pleated or Celluar 42mm
Perfect-fit Venetian 22mm
INTU Roller 42mm
INTU Venetian 30mm
INTU Pleated or Celluar 30mm
Luxaflex 25mm Tru-Fit® from glass to handle (which is in the centre 60mm) from glass to rails 36mm
Neat-Fit Clip - Pleated and Honeycomb - 23mm (38mm to protruding handle)
Neat-Fit Clip Venetian - 30mm (40mm to wand control which can be on the right or left)
Luxaflex 25mm Duette Model 3242 Top-down bottom-up model Model WITH NO HANDELS- each blind is just 25mm deep from the glass (image below)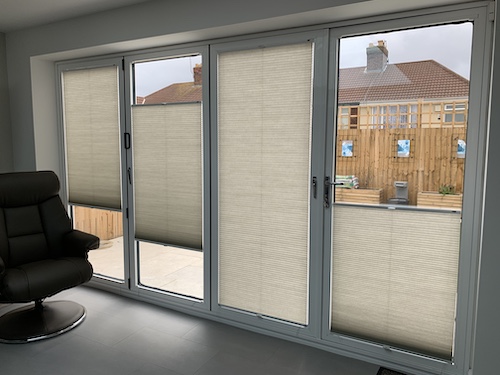 If your gap is small and none of the above work, perhaps look at installing a cassetted blind in the recess as the image below.